---
CTPhoneBook.com - Not being able to find a local Connecticut business on the Internet is frustrating CTPhoneBook.com can help. With its database of well over 40,000 CT businesses, CTPhoneBook.com can find whatever Connecticut business your looking for, and with many more features than regular search engines. Come check us out today.
Birth Partners Doulas of Connecticut - A partnership of labor assistants, postpartum care providers & childbirth educators that deliver consistent high quality care & services to women & families during pregnancy, birth & the postpartum period.
SheGate.com - Women directory and women resources guide.
ShowCoupons.com - Discount Coupons to your Regions Expo Shows.
Shopping Search - Your Shopping Search Engine - Shopping-Search provides the most comprehensive shopping search experience on the Web.
SourceTool.com - The source for business to business products and suppliers around the world.
Womens Business Directory.com - A web directory provides information and resources for business women that covers about women, parenting, business, consulting, business owner, fashion, health and more.
Event Display Solutions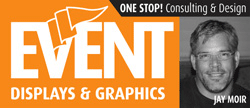 Display solutions of all types.
WedSpace.com



Join us and connect, share and discover the fastest-growing bridal community.